Uncategorized Tagged Idea Mapping, Mind Mapping
August 17th, 2008
During an Idea Mapping workshop in Ft. Lauderdale, research librarians learned various techniques to improve memory, enhance thought organization and bring team collaboration  to the next level.  All participants unanimously agreed that a non-traditional workshop format and innovative teaching method of engaging both sides of the brain helped them unlock creativity and innovative thinking.  One of the workshop's brain-boosting activities required participants to draw a portrait in 50 minutes.  Except for Carol Rinaldi, who had drawn portraits in the past, majority was rather skeptical.  Picking up Andy Garcia, Donald Trump, Merlin Monro and other faces from the pile of portrait samples, people seemed to just go with the flow. Nevertheless, aplying a learing model introduced in the first part of the workshop, they lost themselves in the creative process, and the results were spectacular!  They were all amazed with realistic portraits they though they'd never be able to draw.  It was incredible to see how far our creative minds can take us if only we allow ourselves to be more creative.  See yourself: here is Donald Trump drawn in less than 50 minutes by Martin Wood.  I'll share more portraits in the future posts.
.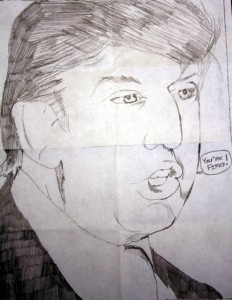 Close
Bookmark and Share This Page
Copy HTML:
If you like this then please subscribe to the
RSS Feed
.
One Response to "Awaken an Artist Hidden Inside You"
jamie nast Says:
September 18th, 2008 at 5:33 pm

Nice job Martin!
Leave a Reply