Effective Meetings, Global Teams, Idea Mapping Example, Visualization
No Comments »
I'd like to highlight Safique Hazarika's comment from the April 4th's post as it describes quite tangible benefits of switching to the mapping method (i.e. saving up to 20 minutes during each meeting).  Following Safique's feedback below, I've included a map from the most recent Mumbai team's planning meeting. I am proud of the team's creativity and commitment to innovation! 
Written by Safique:
"This is creative and interactive. I want to convey the result and confirm how effectively this tool is working for the Mumbai Global Research Library team. I must agree with Larisa that being a global virtual team the challenges of collaboration/networking/idea sharing/tracking are enormous, and I guess this is true for all other virtual teams as well. But this alternative is undoubtedly a ray of hope.
Immediately after transitioning our weekly global meeting through MindJet workspace with the agenda map template mentioned by Larisa, we in Mumbai adopted the same approach for our local Monday weekly planning meeting. Unlike earlier, using white board to write agenda/task for the week and one person taking minutes meeting and later drafting notes, this time we used the projector and run this agenda map. Map template was already filled by respective team members with their task/comments in respective fields before coming to meeting – hence no more white board and no more meeting minutes. Agendas, tasks, comments in the Map are more clear, with pictures and mapped to its objective and expected desired results with deadline & follow up. Though we yet to evaluate the complete benefit and pros & cons of this application but I must say the result is impressive so far and also saves 15-20 minutes each meeting.
Apart from meetings, the most potential and promising is the use of idea maps in new projects, from the idea generating stage to the post-project evaluating phase. Team members have embraced this process quite generously, as it is getting interesting, and most importantly, this process tickles the creative minds and evoke thoughts to bring better results".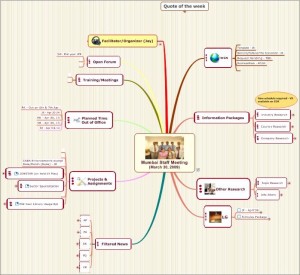 Close
Bookmark and Share This Page
Copy HTML:
If you like this then please subscribe to the
RSS Feed
.