Best Practices, Idea Mapping Example, Library Marketing, Visualization
3 Comments »
Marketing is a combination of art and science. Or shall I say 'right brain and left brain'?  2008 was marked by deep economic downturn, recession, fear and financial losses.  In the environment of cost cutting and downsizing, marketing becomes a powerful tool many managers use to communicate value their departments bring to organizations.  A corporate library is a service business.  Like in any service business, quantifying its impact is a difficult task.  How do you, for instance, put a price tag on information that leads to a profitable investment decision or saves from bad investment choices?  In this series, I'll share some marketing ideas and best practices implemented in my library.
Season's Greetings Post Card
We have a client-focused culture, putting our clients first. In fact, if you ask librarians, many will tell you that they enjoy working with their clients and go extra mile to satisfy and exceed their expectation.  To wish our clients a happy holiday season, we've created an electronic post card (for quick and easy delivery around the globe) with a giant snowflake and a look and feel of a traditional winter holidays card.  Except, we used the snowflake to convey key concepts and ideas that represent library services and values.  We wanted to highlight areas where we make impact in our clients' lives, but do it indirectly, in a subtle way.  The card turned out to be a hit.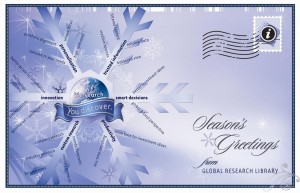 It is worth mentioning, that I used MindManager to conceptualize the snowflake's branches and key word/key phrases.  I was working remotely and couldn't talk face-to-face with Miroslava Litwak, who created a graphic design and did a great job turning the concept into a product.  Sending Miroslava a map (see below) reduced the need for multiple phone discussions and saved us a lot of production time.
Close
Bookmark and Share This Page
Copy HTML:
If you like this then please subscribe to the
RSS Feed
.