Press Releases, Videos, Interviews, Articles and Webinars
Press Releases
Videos
Radio & TV Interviews
10.06.08
Using MindManager for Strategic Planning

Mindjet

07.17.07
The Business of Idea Mapping Part 1

BCTV

Tara Kachaturoff is the host and producer of BCTV's (Bloomfield Community TV) show Michigan Entrepreneur. Tara introduced viewers to how entrepreneurs can use idea mapping. In this clip, Jamie demonstrates how the brain processes information associatively, and then shows how to create a simple idea map of a "to do" list.
Show 1
09.10.07
The Business of Idea Mapping Part 2

BCTV

BCTV will run part 2 of this show twice during the week of September 10, 2007. Tara shares her ideas about "Creating Buzz around Your Business". Jamie creates an idea map of her thoughts while Tara is talking.
Show 2

02.18.07

Idea Mapping on A Closer Look

Summit City Radio

Below is radio personality Leslie Stone's 30-minute interview with Jamie Nast. It aired on WGL (1250AM & 102.9FM) during the Sunday AM show titled A Closer Look. This show is heard in and around the Ft. Wayne, Indiana area, parts of western Ohio, and the tip of southeastern Michigan.

Enjoy listening!

01.16.07

Idea Mapping

This nationally syndicated radio interview included 3 of Jamie's past clients -- two managers from a large automotive company in southeastern, Michigan and one from Mayo Clinic.
Magazine/Newspaper Articles
02.08.07

Plymouth Author Scribes Map to Success
Writer Lester Holmes captures a story about Idea Mapping. Go to the newspaper's online archives for the full story.

01.11.06

From Idea to Action
This article comes from Purdue University and is an excellent overview of Idea Mapping and includes several examples. For the third year in a row, The Wall Street Journal ranks Krannert among top 5 MBA schools.
Idea Mapping Book Reviews
Webinars
Marketing Documents
09.06.06

Info Quake

NastGroup, Inc.

Check it out and have a laugh!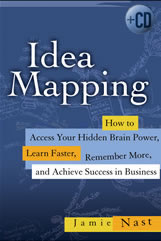 Buy from Amazon here!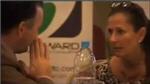 Excellent YouTube video featuring Idea Mapping Workshop participants from Jordan
For examples, hints, and lots of Idea Mapping fun visit the
Photos of Idea Mapping workshops and related items can be viewed here. You may see YOURSELF!!

The first custom-designed Idea Mapping Kit!
Check Out:
Idea Mapping on Squidoo