Whole-Brain Idea Mapping Resources
Biggerplate - Biggerplate is one of the best sources of mind mapping content and community in the world! We have over 1,000 mind maps available to view and download for free, and over 20,000 registered members! Also check out the Biggerplate Blog. London, UK
Forward Training and Consulting - NastGroup, Inc. has partnered with this extraordinary company based in Amman, Jordan. Forward Training is the Idea Mapping provider for the Middle East. They are very unconventional. They have created their own "organization", invented the rules for this "new reality" and "hired" themselves to fulfill it.
A good team is not good enough. So they became business-artists, whole-brainers and risk-challengers. They also KNOW that techniques are not everything so they strive to become culturally sophisticated and genuinely articulate. Idea Mapping is thriving in the Middle East.
The LORIEL GROUP - Lorie Lebert (CEO, CPRW, JCTC, CCMC) leads The LORIEL GROUP and is a career professional possessing a blend of elite career coaching, resume writing, interview training, and personal branding credentials and certifications. Her résumés and cover letters have been featured in more than twenty national publications. Her credentials include: Certified Professional Resume Writer, Job & Career Transition Coach, and Certified Career Management Coach.
Mindjet- The world's leading provider of productivity software for visualizing and managing information, allowing individuals and teams to more effectively think, plan, and collaborate. USA
The Mind Mapping Software Weblog- This blog by Chuck Frey is the most comprehensive resource on mind mapping software.
Mind Study Asia - Mind Study Asia brings the most important needs to the educational institution --developing mental abilities! At their specialized Competitive Ability Development Center, Mind Study Asia offers curriculums in a variety of areas including mind mapping, memory, business administration, intellectual ability training, and more. Taipei, Taiwan and Qingdao, China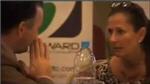 3-Minute YouTube Video from Idea Mapping Workshop in Jordan
by Chuck Frey

To order copies of
Get Ahead email
Vanda North in the UK.

The first custom-designed Idea Mapping Kit!
Remember to check out:
Press, Articles & Events
for info on
Idea and Mind Mapping
Articles and Webinars
For idea mapping examples visit the
• Book Idea Maps
• Additional Idea Maps
• Client Idea Maps
• Submit an Idea Map
Photos of Idea Mapping workshops and related items can be viewed here. You may see YOURSELF!!