Idea Mapping Kit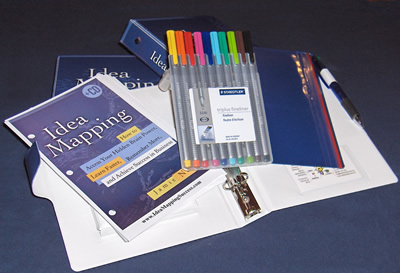 Photography by Trisha Mavin
A Personal Letter From Jamie Nast
Dear Idea Mapper,

For years I've looked for an ideal way to organize and carry the tools I needed without having multiple binders -- one for my planner, one for my PDA, and one for all my Idea Mapping materials. After investigating every office supply store and coming up empty handed, I finally gave in and created one myself. I'm so pleased to be able to share it with you!
The complete description of the kit is below, but I wanted to point out some exciting features. The zipper pouch was specially designed to fit a binder of this size. You can store anything you like in there! For me, it's where I keep some additional markers and other miscellaneous items. The products included in this Idea Mapping Kit (markers, pen, and paper) are of the highest quality. The markers will not bleed through to the next page!
Here are some suggestions:

1. When you run out of paper, there is no need to go to the expense of purchasing more from us. Visit your local office supply store and have them give you 67-pound paper. This is the weight of the paper that comes with the kit. You may be able to find slightly lighter paper that won't allow your markers to bleed. Test the paper before buying in bulk!

2. If you find that you would like to create maps on larger paper, you can use 8-1/2 x 11" paper, 3-hole punch it on the 8-1/2" edge, and then fold the page almost in half so that it nearly touches the inside edge of the 3-hole punches. Now you have multiple sizes to work with!

Other companies sell similar, more costly binders without these high quality product additions. I hope you enjoy using your Idea Mapping Kit. After all, you deserve the BEST!

Warm Regards,

Jamie Nast
____________________________________________________________
KIT DESCRIPTION: This kit comes in a 7-1/16" x 9-1/8" 3-ring binder with 3/4" rings and a Velcro closure. The spine width is 1-9/16". The kit also includes:
- 10-color, fine-tip Staedtler Triplus® markers. These award-winning pens and case design are the best in the world and fit perfectly into the idea mapping kit's custom-designed pocket!
- Pad of 3-hole punched 5-1/2" x 8-1/2" 67-pound quality paper
- Business card slot
- 4-color pen with a black cushioned grip and secured by a pen loop
- 3-hole punched zipper case to store your miscellaneous items!
- Back cover pocket for extra storage
WEIGHT: 1 lb. 10 oz.
PRICE: $99 per kit; plus tax, shipping, and handling
SATISFACTION GUARANTEED: If you're not completely satisfied, ship your kit back to us and we will return your money.
ORDER TODAY AND START ENJOYING YOUR IDEA MAPPING KIT!