Idea Mapping: How to Access Your Hidden Brain Power,
Learn Faster, Remember More, and Achieve Success in Business
Written by Jamie Nast and published by John Wiley & Sons, Sept. 2006
Translation Announcements!
Sezam Book Publishing - Serbia - August 2006
The Electric Times - South Korea - December 2006
Hankyu Communications, Co. - Japan - May 2007 (Released Oct 2008)
Locus Publishing OOD - Bulgaria - September 2007
EKSMO Publishing - Moscow, Russia (Released August 2008)
Catalog Description
The Secret to Tapping into the Unused Brainpower in Each of Us...
Idea Mapping is a simple and profound tool that helps individuals improve productivity and use less brainpower while thinking, learning and creating. It gives people the ability to learn more and learn it faster than they ever have before. Idea Mapping teaches readers how to create and read Idea Maps, describes the three keys to learning Idea Mapping, helps readers avoid obstacles in learning this skill, and includes Idea Maps created by business people from around the world. This is the perfect guide for overwhelmed businesspeople, entrepreneurs, and other too-busy individuals who want to achieve more in business and life -- without putting even more pressure on an already overtaxed mind! Jamie brings her practical workshop right to the reader.
Jamie Nast (Naples, Florida) regularly operates workshops and has taught Idea Mapping to more than 24,000 people around the world.
Endorsements for Idea Mapping
"I have used idea maps for 30 years and have taught MBA students, employees and my children how to harness their power. I am pleased to see that one of the world's great teachers is putting her ideas on paper. I strongly recommend this book and believe you will feel it is one of the best investments you have ever made in your own growth." (Stephen C. Lundin - Author of the FISH! series of business books with over 5 million in sales worldwide)
"This is a book that everyone should read. It's an interactive, thought-provoking book about the brain and learning which will expand your mind. Through this book of inspiration, you will see the author's devotion and research to idea mapping education. Reading this book, I felt the author, Ms. Jamie Nast, an accomplished and well-respected instructor of mine, has guided me into a a new realm of learning experiences and possibilities. I'm sure you will feel the same upon reading her insightful work." (Simon Tai - Former CEO of Buzan Centre Taiwan, current CEO of Mind Study Asia, Director of Jaspers Group, and Primetime News Anchor of Cti TV in Taiwan)
"Jamie Nast shows you a revolutionary method to capture your thinking processes. Don't underestimate the simplicity of Idea Mapping because therein lies its genius. (Scott Hagwood -- Four-time USA Memory Champion, and author of Memory Power - You Can Develop a Great Memory. America's Grand Master Shows You How.)
"The principles Jamie writes about in Idea Mapping have become a staple for me over the past 14 years. I was turned onto the concept of idea mapping in 1992 and have been a student and practitioner ever since. This has absolutely transformed the way I learn, design learning and prepare for public speaking. I have never been more confident in my recall, knowing the content is nicely tucked away in my brain as it was designed to be. Get ready for a life changing experience for yourself and those you influence." (Will Flora, Senior Manager, Chick-fil-A University, Atlanta, GA)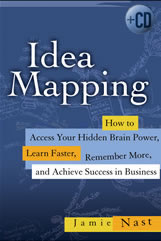 Order from Amazon
For bulk book orders call or email Jeff Gould from John Wiley & Sons at 201-748-6306.

• Book Idea Maps
• Additional Idea Maps
• Client Idea Maps
• Submit an Idea Map
Project Management Professionals(PMPs) can earn 15 PDUs by attending the Idea Mapping Workshop and reporting PDUs under Category 4 - "Other Providers".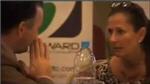 3-Minute YouTube Video from Idea Mapping Workshop in Jordan

The first custom-designed Idea Mapping Kit!
Learn more about Jamie's upcoming 2-day public workshops.
See both clips from Jamie's TV interviews where she creates several idea maps.
Check Out:

Press, Articles & Events
for info on Idea and Mind Mapping Articles and Webinars
For new Idea Maps weekly and lots of Idea Mapping fun visit the
Photos of Idea Mapping workshops and related items can be viewed here. You may see YOURSELF!!